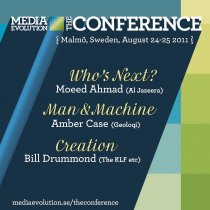 Media Evolution The Conference
24 augusti, 2011 - 23:58
-
25 augusti, 2011 - 23:58
For the seventh year we invite you to come to Malmö, Sweden, to explore the future of media and discover new business opportunities. The Conference (formerly known as Moving Images) attracts people from film, games, web, publishing, learning, tech and music.
During two days we will discuss who our future audiences are, the technology we communicate with, and how we create and consume media. These matters will be treated under the headlines: Who's Next?, Man & Machine and Creation.
The Conference puts you right in the flow of the present media evolution and points an inspiring finger into the future.