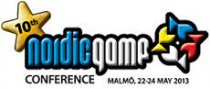 Nordic Game 2013
22 maj, 2013 - 09:00
-
24 maj, 2013 - 15:48
The Nordic Game 2013 conference will celebrate its tenth edition on 22-24 May in Malmö, Sweden.
Registration is now open for the most relevant games industry conference in Europe, and we have so much to announce.
As the most relevant games industry conference in Europe, we have a lot to offer. Not least:
A conference program filled with the best speakers from the global industry as well as our local Nordic heroes, including Tim Schafer as the opening keynote speaker, and talks by Richard Lemarchand (Uncharted), Julie Uhrman (CEO of OUYA), Mattias Nygren (Tarsier), and many more.
Pitch & Match - The b2b system premiered at last year's conference with great success. This year will see the system expanded - and as part of the European Game Conference Alliance (EGCA) we can offer a great discount if you sign up now.
Nordic Fast Track - A brand new track in the conference program, the Nordic Fast Track is the fastest connection between Nordic developers and the conference audience. Sessions will be short, sweet and straight to the point. Watch out for more info very soon.
…and much, much more, including Nordic Game Indie Night + Live Pitching Session + Exhibition Floor + Nordic Game Play Area + Nordic Game Awards 2013 + Development Support Grant Ceremony + Gala Dinner + the renowned Nordic Party + you of course.