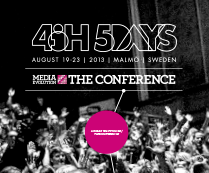 About The Conference
21 augusti, 2013 - 09:00
-
22 augusti, 2013 - 18:00
Media Evolution The Conference takes place in Malmö, Sweden, for the ninth year. Focus is on factors that are affecting all media industries. Where the media industries meet.
We believe that collaboration is the future of business. When people, companies and industries work together, giant leaps of innovation happens. This is why Media Evolution The Conference exists and you should participate.
Five days of action
The 2013 edition of The Conference is expanding its universe and will this year span over five days of master classes, discussion forums, parties and other events, culminating in a 48-hour intense conference experience. Here you can see the program for each day.
48H CONFERENCE
The Conference brings the big societal questions to the table, asking how media and communication can contribute to building a better future. We are stretching the boundaries, keeping the two day conference open 48 hours
on August 21st-22nd.
40 astonishing international speakers and 900 participants will discuss the future of the media industries and our society. The main subjects will be human behavior, new technology and how to make it happen.