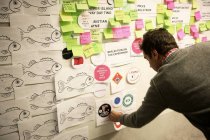 Explore the future with Hyper Island
4 juni, 2013 -

17:30

-

19:30
Meet & learn about our upcoming evening course in Digital Strategy.
On tuesday June 4th we're organizing an event at Media Evolution Center from 17:30-19:30 in Malmö.
We'll talk about how organizations can transform themselves to meet the digital future - we see the immense impact the digital revolution has on the world and the way it affects behaviours, business and communication. We work with people in many organisations, large and small, to prepare for the future that in some aspects already is here. In this session we want to share some of the learning and insights that we have gained over the years in a collaborative way that also gives you a sample of how we work, our methodology and why we believe this is so important. It is also an introduction to our upcoming evening course in Digital Strategy, that will run parallel in Stockholm, Gothenburg, Copenhagen and Malmö this fall.
The event is free of charge. There will be light refreshments.
We'd love to see you!
Please RSVP to DS [at] hyperisland [dot] com