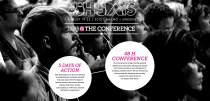 The Conference - Day 3 and Evening Program
21 augusti, 2013 - 08:30
-
22 augusti, 2013 - 03:00
DAY 3
Read about the day program here.
The Evening program is perfect if you can't participate in the whole conference or during the day on Day 3. There will be a mini conference about the future of libraries, Doc Lounge movie screening, a late night keynote presentation by Malik Bendjelloul (Searching for Sugarman) and more. Open until 3:00 am, with karaoke and dance floor.
As a member you get a 500 SEK discount (original price 1000 SEK). Get your tickets here now!