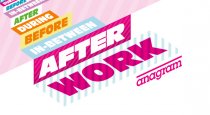 Welcome to WORK
22 november, 2013 -

17:00

-

20:00
Work is a totally new, movable meeting point for anyone who enjoys meetings outside the boundaries, cares less about 'us' vs. 'them', here or there, morning, lunch, afternoon or evening.
The main thing is to meet up for a while, have something to eat or drink and otherwise let the spirit of the day, together with your input, determine the outcome. Come as you are, bring a friend or two - or as many as you like! Visions, ideas and thoughts are very welcome.
Hope to see you there!
When & where
Date November 22, 2013
Time 17:00–20:00
Location Tegnérs Matsalar/AF-borgen in Lund
Price Free entrance, great pricesat the bar
Like us and let us knowyou're coming Facebook
Special treat this time
Live performance by My bubbaFuture WORK meetings
January 24, 2014 at Ideon, Lund
February 28, 2014 at Medicon Village, Lund