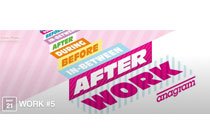 Anagram WORK - movable meeting point
21 mars, 2014 -

17:00

-

20:00
WORK is a totally new, movable meeting point for anyone who enjoys meetings outside the boundaries, cares less about 'us' vs. 'them', here or there, morning, lunch, afternoon or evening.
The main thing is to meet up for a while, have something to eat or drink and otherwise let the spirit of the day, together with your input, determine the outcome. Come as you are, bring a friend or two – or as many as you like! Visions, ideas and thoughts are very welcome. After, before, inbetween, instead of … WORK.
When: March 21, 2014 17:00-20:00
Where: at Tegnérs Matsalar/ AF Borgen/Lund
Facebook-event: See who's coming and sign up yourself
We continue with Anagram's new success; WORK. At the events we gather people from different industries for a happy and relaxed get together, all accompanied by great music and exciting meetings.
This time WORK is visited by DJ Clara Stjärna. Clara has played music and been involved in nightclubs since 2003. She is based in Malmö and Cape Town, and since 2009 Clara is running a record label called ILLEGYAL RECORDS. Despite it is early afternoon, we at WORK hope Clara's cool music will make you dance like we're spending the evening in Downtown New York.