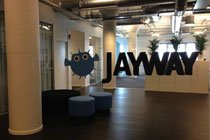 BUILD bonanza at Jayway
2 april, 2014 -

17:00

-

20:00
Not going to San Francisco for the BUILD conference? Join the next best thing – a BUILD bonanza at Jayway!
Together with Microsoft Sweden and Øredev, we are bringing the keynotes to you. Jayway hosts and organizes the event, Microsoft and Øredev are nice enough to sponsor the prices.
We're really excited about hearing all the latest on development for Windows Phone, Windows, Xbox, Azure – hope you are too.
Except for live streaming of the keynote on our brownbag setup in the Jayway lounge, we have this in store for you:
- Guess-the-announcements-competition – you can win a 3-day ticket to Øredev 2014 – or an Xbox One!
- The Korvhuset chefs will be here with BBQing and all the extras you'll ever want, and the beer that goes along – all on the house
- Fun giveaways
- Access to the Jayway lounge including Xbox, Kinect, pool and dart
- Snacks and beer throughout – courtesy of the Øredev crew
- Doors open at 17:00, keynote starts at 18:00.