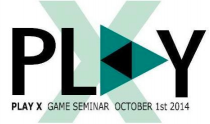 Play X – Game seminar Cph
1 oktober, 2014 -

09:00

-

16:30
Play X – Coming of Age
Looking back and thinking ahead
The annual Play
seminar is here, and we are excited to once again open the doors for the games industry. This is the 10th Play seminar, and under the headline Play X – Coming of age, we will take a look at how far we have come since 2005, when the first edition of the Play seminar took place.
Ten years ago we missed a wider public support and a broader public recognition of video games. We framed games as an underground movement, talked a lot about AAA, violence and tough publishers, and then we witnessed small enterprises with the ambition of going professional and to professionalise. Politicians discussed whether video games could be seen as culture and considered it a commercial media for young boys.
But where are we now? Has the industry become mature, or are we still way behind other cultural products? Have we arrived?
It seems that we are witnessing the Coming of Age of video games. There is no doubt that the Danish games industry is doing much better than the young teenager it was in 2005. We have many companies doing well, the rise of mobile has been good for the smaller Danish games companies, we have recognised artistic indie developers as well as successful mass marked game developers.
DADIU – the Danish games education – was established in 2005. In 2008 Denmark got public funding for games with the establishment of Spilordningen – The Danish Game Support Scheme – and in 2009 we got the first support organisation with Computersplizonen, which has now graduated into Interactive Denmark.
Locally, it seems that games are slowly beginning to be regarded as part of the culture industry along with movies, theatre, books, etc. And the Danish newspaper Politiken recently reintroduced game reviews to the culture section!
Inspired by the 10th anniversary of the Play-seminar as well as the general sense of witnessing an industry maturing, we have asked a selection of wise people to talk about what has happened, and where we are heading? The list of speakers will be announced soon.
Our generation will be remembered for our video games. Every generation is remembered by its popular art; when you think of the 60s you think of Woodstock and hippie music. When you think of the 80s, you think of Miami Vice and the birth of music video. (the blog: "Cracked")
How to participate in Play X?
The seats are allocated on a first come, first served basis and a limit number of 150 participants.
Where: Bio Carl, The Cinematek, Gothersgade 55, 1123 Copenhagen K
When: October 1st 2014, 9:00-16:30
Organisers: Play X is organised by Creative Europe Desk Denmark, DADIU and the Danish Film Institute
Contact: Maiken Høj: maikenh [at] dfi [dot] dk
Follow the Game Seminar online: #PlayX2014