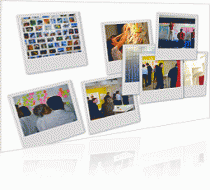 The Idea Agent™ program
11 juni, 2015 - 09:00
-
12 juni, 2015 - 16:00
The Idea Agent™ program is a hands-on creativity training designed for everyone that needs to be able to take a more active role in creative meetings and workshops. The two-day innovation program focuses on the design of a creative process, the tools and techniques available for creating and managing ideas and the appropriate leadership skills needed to facilitate the process.
Upcoming Training dates in Malmö 2015: 11-12th of June.
Objectives:
To enhance and get an understanding of the creative process. To give the participants tools and training in design, facilitation and how to document a professional creative process using techniques way beyond traditional "brainstorming".
Day One
The first day is an exciting journey into the world of ideas. We will cover how to set up a working space and how to set the right mood in a group of people. You will learn tools that will help you to analyze and define a problem. You will also learn many different ways on to how you can create hundreds of ideas very quickly. All this is done using a mix of practical hands-on exercises and discussions around your own reality and real world cases.
- The Idea Management Process
- Problem Definition
- Idea Generation
Day Two
The second day kicks off with a session around how to select the best ides and easy ways to enhance the quality on selected ideas. We will also go deeper into concept building and presenting ideas in a way that sticks to the audience minds. Another important part of this day is training on how to set up an idea process that matches your facilitation type and the needs of your organization.
- Screening and Enrichment
- Conceptualizing
- Process facilitation and design
- Language and Training Material
Practical information
The training will be conducted in Swedish or English.
During the training days you will receive our book Idea Agent – The handbook on creative process.
The training in Malmö are held at the Media Evolution City.
Lunch is included in the training fee.
Training fee: 13.500 SEK per participant excluding VAT. Members of Media Evolution get 25% discount. More info here!
Cancellation policy: If cancellation is made less than eight office days before the training starts, the full training fee will be invoiced. If cancellation is made less than fifteen office days before the training starts, half the training fee will be invoiced.
Need more info? Please contact Andréas Breiler and Jonas Michanek at idelaboratoriet.com