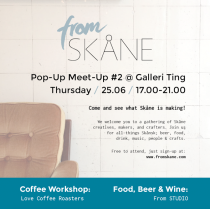 Pop-Up Meet-Up #2 from Skåne
Pop-Up Meet-Up #2 Thursday / 25.06 / 17:00-21:00 / Galleri Ting
Come and see what Skåne is making!
From SKÅNE is a community and shop of makers based here in Skåne. Our goal is two-fold; build a community for designers and creators to exchange ideas, thoughts, and skill sets, while providing a commercial outlet to sell what they do best. An ecosystem of thought, production, and social gathering. We welcome you to a gathering of Skåne creatives, makers, and crafters. Join us for Skånsk beer, food, drink, music, people & crafts.
Coffee workshop:
Daniel Remheden of Love Coffee Roasters (based out of Lund)
Speakers:
Lina Gustafson - pattern designer (based out of Malmö)
Memories of Sweden - jewellery designer (based out of Malmö)
Beer, wine and food:
Provided by From STUDIO
Details:
Entry: FREE (as always, just sign-up on our event page)
Address: Galleri Ting, Mäster Danielsgatan 3, Malmö (St:Knuts torg)
Images from Pop-Up Meet-Up #1: http://www.fromskane.com/#Pop-Up-Event