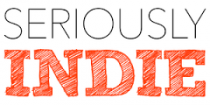 Seriously Indie @ The Game Assembly
18 november, 2015 -

16:30

-

20:00
Thinking about starting up your own game studio?
Seriously Indie is an event for those who want to learn more about what it takes to start up your own game studio.
For this second round of Seriously Indie, Game City have invited some of the best and brightest game developers in the neighbourhood who'll get about 10-20 minutes each to share some of their experiences and tips for running a games company. Together they will cover things like marketing, pitching, how they got started and more.
We'll be serving some refreshments during the event.
The event is free, but seats are limited. Register for a free ticket on Evenbrite (link above)!
Speaker Info:
Henrik Johansson, Mediocre (www.mediocre.se) will talk about how they got started.
Sara Casén, Casen Crowd (www.casencrowd.com) will give a primer on indie game marketing.
Martin Walfisz, Planeto (www.planeto.com) will talk about entrepreneurship.
Jaana Nykänen, Divine Robot (www.divinerobot.com) will talk about the practical side of running a games company.
Peter Lübeck, Game City (www.gamecity.se) will share the latest news from the region.
We'll be announcing more speakers shortly!
Book your seat here!