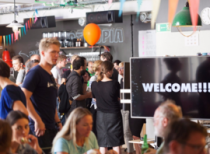 Hyper Island Future Breakfast
1 april, 2016 -

07:30

-

09:00
Change is the new normal.
We are living in a time of remarkable and rapid change. Technology, social behaviour, culture and the fundamental nature of businesses are all in flux. Come and explore the trends transforming society together with Hyper Island, on April 1st.
This breakfast seminar will be all about the changes of tomorrow. We will challenge you to look into the future together with us and explore the trends transforming society. We encourage you to bring your co-worker, boss or collaborator too, to have a chance to collectively develop the path for your business.
Before for the workshop, ustwo will share how they work when creating digital products and how collaboration greatly contributes to make magic.
Quick info:

What can I expect? In this interactive session we'll invite you together with Hyper Island and usTwo explore the Trends Transforming Society.

For whom? 

This session is tailored to you who work within strategy, marketing, business development or in a leadership position and want to increase your understanding of trend mapping tools and explore current trends. We will also share some of the other things Hyper Island do so if you are curious about that you are more than welcome to join as well.
Where?
 At ustwo Nordic, Kärleksgatan 2B, Malmö
When?
 7.30-9.00, 1 april
Sign up: 
Here.
Welcome!