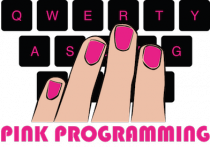 Pink Programming Sunday
3 april, 2016 -

10:00

-

15:00
Pink Programming Sunday
Programming for women of all ages!
Come join the fun!
Pink Programming is all about women learning programming together. You don't need any experience before hand, just grab your computer and an open mind, the rest we'll figure out together.
At Pink Programing we will recommend free tutorials and small projects available to you on the internet, so you can start learning from beginners level to advanced, right then and there. You're also welcome to bring your own project you'd like to work on.
Sign up now, on the link below!
What: Pink Programming Sunday
When: 3:e April, 10.00-15.00
Where: Multirummet
Sign up here.
Questions? Reach us here: carina [at] foocafe [dot] org
Welcome!