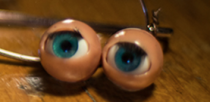 Medea Talks: EU Data Protection Policy in the Digital Environment
23 september, 2016 -

14:00

-

16:00
What will we mean by privacy in the future?
Medea Talks with Marju Lauristin, Member of the European Parliament and professor emerita at Tartu University.
In this talk, Marju Lauristin will open the philosophical underpinnings of the EU data protection regulation. What is "private" data? And how do you balance individual data protection with public and commercial interests?
The new EU Data Protection Regulation (GDPR) replaces the old EU Data Protection Directive. Below are five things you should know about the GDPR, according to Bloomberg BNA (23 aug 2016).
- First, it sets up one privacy and data security law for the EU rather than separate laws in the 28 EU member states […]
- Second, the GDPR has a right to be forgotten provision to allow individuals in the EU to ask search engines like Google to remove search links to stuff where privacy outweighs the public's right to know.
- Third, if a company gets busted for violating the GDPR they may face really big fines of up to 4 percent of their worldwide revenue.
- Fourth, the two year delay until the GDPR takes effect gives companies a chance to get their privacy policies and practices into line before facing any risk of those mega-fines.
- Fifth, even though the EU is moving to a one major privacy law regime, there will still be lots of room for interpretation. So privacy and data security attorneys will definitely be busy for the foreseeable future.
Also read "Are you ready for the new world of data protection laws?"
Marju Lauristin is a member of EU's Committee on Civil Liberties, Justice and Home Affairs (LIBE). She has also been a so-called shadow rapporteur to the EU General Data Protection Regulation (GDPR). In 1990, she was the deputy speaker of the Estonian parliament and between 1992–1994 the first Minister of Social Affairs. She has since 1998 been a member of various European political organizations and is currently Vice-Chair of the Group of the Progressive Alliance of Socialists and Democrats in the European Parliament. Lauristin is professor emerita in social communication at Tartu University, Estonia.
The Q&A will be moderated by Andreas Jacobsson, docent in computer science at Malmö University.

What: This Medea Talk is organized in conjunction with the Transit Europe: Mobility, Communication & Governance conference in Malmö, September 22–23.
Where: Hörsal B1, Niagara, Malmö University, Nordenskiöldsgatan 1, Malmö
Register? Free of charge, but please sign up here!