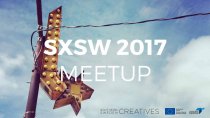 Friday the 28th Meetup SXSW 2017!
28 oktober, 2016 -

14:00

-

15:00
Are you going to SXSW 2017?
Do you want to, just thinking about it, need a good reason to convince your boss you can go or do you need an entrance point to the US market?
We can help either way.
Through the Southern Sweden Creative's (http://southernswedencreatives.com/) we can offer an active matchmaking to get you an introduction to the US market through and with the help of companies in Austin, Texas.
We will be working with consultants on site to gain access to these companies and we have already started.
We want to meet or hear from you who are going to SXSW 2017 or want to go to Austin now to start the process of thorough business matchmaking on this side of the new year.
Come to Media Evolution City the 28th of October and we will tell you all about it, and what else we will be doing at SXSW next year.