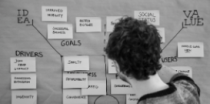 040x040 presents: Hands-On Product Thinking with the Product Field
2 december, 2016 -

09:00

-

12:00
040x040 is a creative exchange program for people in Malmö and Hamburg, we would like to invite you give it a test try this fall, to get to know the network and to learn more about what is all about by inviting you to this workshop in the hands of your friends in Hamburg!
This workshop is an off-season special event of 040x040, the exchange program between Hamburg and Malmö. Michael and Christophe will introduce the Product Field for around 1,5 hours. If you have more time, we're looking forward to another 1,25 hours of hands-on product thinking. We'll also bring the freshly released Product Field Reference Guide – and we'd like to celebrate the book's release together.
Product innovation is complex. Simple practices and linear processes don't do it justice – they regularly lead to false assessments, failure and frustration. Product Thinking is a mindset and methodology that addresses this situation. It treats product innovation as a complex system and aims to maximise its positive impact on all stakeholders.
The Product Field helps you with that: It's a model, a canvas and a toolbox to develop better products and increase your capacity for innovation. In this workshop, you will be introduced to its core ideas and use the Product Field yourself to create shared understanding.
Using the Product Field, you'll learn how to
• navigate the context a product is built and used in
• hone a value proposition
• identify potential for improvement
The Product Field
Faciliated by Michael Schieben and Christophe Stoll of precious design studio, Hamburg
Precious design studio helps innovators to shape meaningful products and services that people love to interact with. precious, in close collaboration with friends and partners, have conceived and crafted several products, such as Sketch Data Populator or Open Color Tools, organised the world's first Designtools Hackday and recently co-developed the Product Field, a cognitive medium for product innovation.
Schedule
9:00 - 10:30 am: Introduction of The Product Field
10:45 - 12:00 am: Hands-on product thinking (plus a little book release celebration)
Location
Media Evolution City Malmö → Superrummet
"This event is being conducted in the framework of the Southern Sweden Creatives project and has received financing by the Swedish Agency for Regional and Economic Growth and the European Union Regional Development Fund"