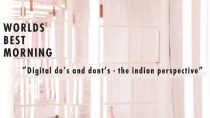 World's Best Morning 10/2 - Digital do's and dont's - the indian perspective
What can one of the world's most connected countries - Sweden - learn from one of the world's largest country - India - where soon 500 million inhabitants are connected? And vice versa?

Together with Swedish South Asian Studies Network (SASNET) at Lund University we are pleased to invite you to a morning with conversation about how professional roles and workplace is reshaping and how we can find ways to work toward a kinder Internet.
Divya Rajagopal, at The Economic Times newspaper in Mumbai will talk about how newspapers in India continue to be sustainable in the digital age as reporters take up the challenge of multi tasking both print and digital medium
Zeenab Aneez and Japreet Grewal from Centre for Internet & Society will talk about how digitization affects people based on human rights, privacy and public education
Karen Gabriel from Delhi University will talk about online harassment
Vibodh Parthasarathi from Jamia Milia Islamia University talks about how globalization affected the Indian media landscape
Big thanks to Arbetsförmedlingen och SASNET that enables this morning.
Setup

We are gearing up for a lovely start to the day with a World's Best Morning. The lecture lasts an hour and begins at 8:30 am (breakfast is served from 8:00 am). You will get a good breakfast, new ideas, inspiration and an opportunity to meet new friends. Breakfast + lecture is only for our members.
When:
 Friday 10/2
Time: 08.00-09.30 (Breakfast is served from 08.00, lecture starts at 08.30)
Where: 
Media Evolution City, Stora Varvsgatan 6A, 211 19 Malmö
What:
 Worlds best morning "Thriving on the digital trends in 2017"
For who:
 Media Evolution members
World's Best Morning is free for our members. But because of the high pressure on our activities, it is important to hear from you if you can't come. If you have registered and don't show up without notifying us, we take a fee of 200 SEK.
After the lecture mango lassi will be served with the opportunity to discuss new perspectives with speakers.