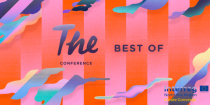 Best of The Conference
15 september, 2017 -

08:00

-

09:30
Friday 15th we organize a breakfast seminar for our community, to present the best parts of The Conference. Members of our community will share insights, experiences and fun conversations from the last week.
Yes! Yes! Yes!
Start the morning with a coffee, crossiant and yoghurt and enjoy a summary of the very best from the two days at Malmö Opera and the 60 side events during the week.
This morning is for our community that didn't have the opportunity to attend The Conference.
Info about our speakers to come.
When: Sept 15 2017
Time: 8am - 9.30am
Where: Media Evolution City, Room: Multirummet
What: The Best from The Conference
Organizer: Media Evolution and the project Create Converge
Hope to see you. Tickets here!
The seminar is brought to you by the courtesy of Create Converge.