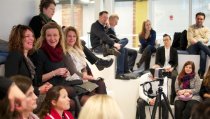 Startup Dojo at Foo Café
29 oktober, 2015 -

17:30

-

20:00
There's never been a better time to get started!
Do you have a great business idea but don't know how to take it to the next level?
Come and talk with experienced entrepreneurs at Startup Dojo! Test your ideas, get advice, enhance your pitch, find co-founders and investors, or just be inspired by your fellow-entrepreneurs.
Objective
To help more people become [successful] startup entrepreneurs.
Inspirational speaker 1: Steve Jennings
Steve will give a talk about his experience in using Lean Startup methodology in several projects.
Inspirational speaker 2: Andres Rearte
Andreas presentation is called "Ready, aim, fire: take action to get your startup, off the ground!"
What: Startup Dojo
When: 29th October, 17.30-20.00
Where: Arenan, Medieskogen
Sign up here.
Questions? Reach us here: carina [at] foocafe [dot] org
Welcome!