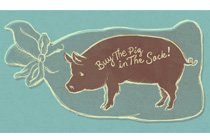 The conference 2012 is now on sale. Register at super duper price
8 december, 2011 - 22:55
Today we release the first 50 tickets to next years Media Evolution The Conference at a super duper special price, aka. "buy the pig in the sack" price aka. half price.
It's been three months since Riyaad Minty, Al Jazeera, gave that amazing final keynote presentation at this years The Conference. 40 fantastic speakers and 650 participants made it a success this year.
"Buy the pig in the sack"
To be honest, we know nothing about the 2012 edition of The Conference. We just started to work with it. All we know is that it will be even better than this year conference.
We promise to give you two astonishing days of international speakers and plenty of opportunities to boost your business.
Sign up now to get one of the 50 tickets for the price of only 2 500 SEK (€270) aka. half the walk up price. Members of Media Evolution get an additional 1 000 SEK off the price!
Participate
The Conference is all about people like yourself, really. We would love to have your input on subjects to address and speakers to invite.
We have an "advisory group" on Facebook that you are welcome to join to discuss subjects to address and potential speakers to put on the stages at The Conference.
Welcome to Malmö, August 22-23 2012.
The Conference is brought to you by Media Evolution.