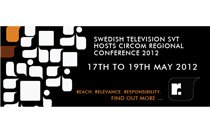 Circom Conference 2012 in Malmö
5 april, 2012 - 11:11
SVT/Swedish Television and CIRCOM Regional have the pleasure to invite you to the 30th anniversary of the CIRCOM Regional conference. The 2012 Conference will take place May 17th-19th in Malmö. Under the three key words Reach, Relevance and Responsibility we have put together a programme that will give something for everyone in the media industry.

The Conference is free of charge. All you need to do is sign up. You do sign up until further notice here: www.circom-regional.eu
Web: http://www.circom-regional.eu/
Twitter: https://twitter.com/#!/CircomConf
From the program::
THURSDAY MAY 17
9.30 Regional Public Service – too expensive or the key to success
Eva Hamilton - CEO of SVT, Sweden, Jacques Briquemont – President CIRCOM Regional, Kostas Bliatkas – General Director of ERT3, Greece, Rosa Vilas – Managing Director of TVG, Spain and Gerard Schuiteman CEO of Roos, the Netherlands
Regional Public Service - an expensive and shrinking business or the key to success?
A discussion on reach, relevance and responsibility.
In some countries the regional operations have been centralized or downsized, in others the public service companies give the regional media houses more independence and resources. Is the regional mission part of the core in a public service definition or is it just an outdated expensive obstacle in the yearly budget?
Top executives from all around Europe discuss the future of regional television.
11.00 Transforming Audiences
Jakob Bjur, Research Director, TNS Sifo and Researcher at the University of Gothenburg, Sweden
How can Public Service media reach out to have an effect on and address important issues in a world of media overdose. Not only is the modern media consumer flooded with information from every corner of the world, the public itself now creates its own news.
Ph.D. Jakob Bjur has done research on the media landscape and gives us some answers on how Public Services broadcasting can be more relevant to our changing audiences.
16.15 Big Screens
Anita Bhalla, BBC, UK
The Public Service Big Screens network operates large LED screens in urban cities in an attempt to engage with a diverse out of home audiences. The screens are run in partnership with the BBC and Local Councils. This session looks at the impact of the Big Screens on the BBC as the broadcast partner, the city centres, development of user generated content and Interactivity games.
FRIDAY MAY 18
9.30 The Malmö Case - The Responsibility of the Media – Panel
Ilmar Reepalu – Mayor of Malmö, Bernard Mikulic – SVT, Sweden
Many see Malmö as an example of social diversity gone bad. Media from around the world describe Malmö in negative terms. Media reports about increase in crime and unemployment in the city, often linked to the high rate of immigration particularly from Muslim countries. As a result racism and islamophobia increase at the same rate.
What is the true picture of Malmö? Is the media responsible for this negative image? These important questions will be discussed by a panel consisting of Ilmar Reepalu, Mayor of Malmö, Bernard Mikulic, reporter from SVT's local television News department and other media representatives.
14.00 Mobile Journalism - A Future Force in News Operations?
Karol Cioma, Circom Regional Training Project Manager and Glen Mulcahy, Production Development Manager, RTE News, Ireland
The latest news and developments in MoJo working. The workshop will be looking at how mobile journalism can affect the way journalists operate in a multi-media environment and how news gathering can benefit from this innovative technology. This session is a must for all journalists who work in television, radio and on-line and for all news managers who are interested in improving their output by "being there first".
Location: Orkanen, Nordenskiöldsgatan 10, 205 06 Malmö, Sweden
More info to come..