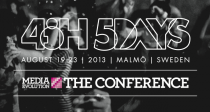 Job opportunity - Researcher at The Conference by Media Evolution
30 oktober, 2013 - 12:31
The Conference (www.theconf.se) is Scandinavia's most important conference. It is it in part because of its awesome speakers and its way of working independent with its program. Instead of having sponsors on stage and a small advisory board to rely on input from, we work with a broad community and utilize an active advisory group on Facebook.
We strongly believe in having a collaborative model for putting the program together. However, Clay Shirky is a big influence to us and just as he writes in Cognitive Surplus know how important it is that we are leading the work and is creating a framework for others to work in and make sure they know why and how they should participate.
As a researcher at The Conference your role is to give input to the community and the Program Director. You will fuel the discussion with trends and analysis of the contemporary digital scene - media and beyond. And essentially be a big part of booking a world class program for The Conference 2014.
You have an avid desire to dig for information on factors that affect and probably already have list of blogs in your reader and follow a whole bunch of great thinkers, curators and connectors on Twitter.
Based on the information you gain you're good at seeing trends and patterns in the contemporary media, technology and science landscape. If you have experience with curating, editorial work and already have a good international network, that's a big merit.
The Conference is committed to have a gender equal speakers line up and our goal for the coming years is to have speakers from all parts of the world. Individuals that bring their unique perspective to what factors are changing the way we do business and function as a society in the coming years. We believe that the clues to future possibilities in digital business will come from outside the main stream. We believe that magic, as well as innovation, happens between industries and cultures. The Conference is the place where people with different perspectives get together to discuss how to harness the changes we see in society and to address how to translate that into business opportunities for companies working with communication and digital solutions.
The Conference is organized annually in Malmö, Sweden. Our main themes are "human behavior", "new technology" and how to "make it happen". 50 speakers from all over the world discuss their ideas with 1000 participants. In our video archive we've collected the 160+ presentations from past three years.
Period: January-May 2014
Hours: Part time, 20%, one day a week
Location: We're based in Malmö, you can be based on the internet.
Sounds interesting to you?
Write our Program Director Martin Thörnkvist (martin [at] mediaevolution [dot] se) an email and tell us briefly about yourself, what your vision for The Conference program is and why you're the right person for the job. Do it no later than November 22nd.