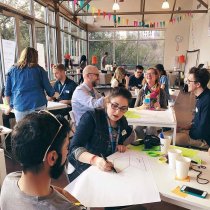 The international community!
23 april, 2016 - 14:37
Not very long ago we provided our members with a survey about internationalization. Half of them said they're going international in the coming year… this strengthened our belief in working more strategically with international projects, partners and events. And, the fun is, we're (you're) already doing that.
REMINISCING OVER MARCH
We're not local. any of us. Globalization schmobalization or whatever you'd like to call it. It's here, it's there, it's everywhere. Let's consider the past month. Our local community hosted great meetups and workshops at SXSW in Austin. Kudos to ustwo, Topp and Mirror Music! Massive launched Tom Clancy's The Division with over 100 million hours played in the first week (!!!) and Learning to sleep got accepted to Silicon Valley incubator Plug and play.
We continuously host visits from a wide range of companies and institutions who are interested in our local community and our working methods. During March Tokyo was here, Tampere was here and Ukraine was here. We won an international design award, went to Paris to host a workshop about 'Rapid prototyping' at The House of Human Sciences Paris Nord and planned great things with Sydney, Nairobi, Copenhagen and New York.
WHY THIS REMINISCING ALL THE SUDDEN?
Well, if we don't tell you, you can't possibly know how to engage. We'd like to encourage you to take part, and be part, of all the things we do, the partnerships we make and networks we join. Some of you are already doing it all by yourself, some of you might not be up for it at all but we believe many of you just need to be presented with an opportunity and invitation to engage.
As a region we have an advantage. As the Nordics are exotic hot stuff all over the world, the big cities; Stockholm and Copenhagen, are still the frontrunners. So we said advantage didn't we? Yes, big cities have a tendency to form own ecosystems where supply and demand are both operating in the same city. It's the big account business. As such you have to maintain your position as a key player whereas smaller cities often have less of a position to defend, which makes it more meaningful to break fresh ground and seek collaborations, everything kind of pays off.
If not for tomorrow, for the day after. New perspectives come from new arenas.
LOOKING AHEAD
In the near future we'd like to invite you to participate in a creative exchange with our soon-to-be neighbors Hamburg.
040x040 started last year as an initiative from the Hamburgarians. It's a series of community-driven gatherings for creatives and innovators from Hamburg and Malmö. It's kind of like an unconference, a small format where you share and learn and form new relationships and friendships.
-> Next event takes place in Hamburg in September. Challenge your work life in a new market, get new knowledge and get inspired. Look out for event and tickets!
The train to Hamburg costs 80€ and if you like we can find you a guestbed to sleep on! Our member Do-Fi went last year, and loved it!
MobiGoin, or Mobility Goes International - For you who work with smart mobility solutions. Maybe you've made an app that makes biking in the city easier or driving more eco friendly? If you're working in the field of smart mobility - join the internationalization project by letting us know your obstacles when it comes to internationalisation in this survey!
We would love to meet you, so we're also planning focus groups in May, so let us know if you like to come! (info [at] mobigoin [dot] eu )
APPLY FOR BUSINESS DEVELOPMENT CHECKS
If you're a small business you can now apply for funding for internationalization by Region Skåne. You can get up to 250 000 SEK to prepare and implement a new project in a new market outside of Sweden. Which might make it easier to go to Hamburg with us!
Read more.
BULLETS
- We invite you to get smarter on transmedia by following @eurotransmedia on Twitter, where observatories anda a white paper on the subject can be found!
- Check out the DreamHack Masters in Malmö April 16-17.
- If you couldn't make it to SXSW, come to our Sharing club Thursday April 14 where KAN will share the trends they spotted there.
- 18-20 May Nordic Game 2016
Hey ho let's go!
If you're interested in our international projects and networks, please get in touch with Sara Ponnert (sara [at] mediaevolution [dot] se).
All input, requests or feedback is much appreciated. Maybe you want to engage but don't know how, maybe you're already a pro on international business and have lots of input to share. Either way, we'd love to spark a discussion about what we can to together as a community to build bridges across the world.