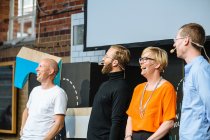 Internship @ The Conference - Fall 2016 (Communication)
16 maj, 2016 - 17:13
See also >> Be part of the editorial staff @ The Conference 2016
The Conference by Media Evolution is an international conference exploring complexity and trends in the digital world. We adopt a multidisciplinary perspective on digital development and focus on the intersection between human behavior, new technology and how to make it happen.
We invite 50 speakers from all over the world from a wide range of disciplines, really, they can be anything from brain scientists, robot experts, sociologists to designers, entrepreneurs or artists. 1000 people participate in the two-day event at Slagthuset in Malmö and another 2000 participates in workshops, master classes and festivities during the conference week.
When The Conference 2016 is over we'll get straight down to business and tweak our strategy forward and strengthen our market and communication channels for 2017. We continuously evaluate and develop how we bring value to our participants and community, year round.
This internship is for you who want to be a part of creating the world's most important forum for knowledge and ideas about where digital development drives society. You take great interest in the communication methods of now and beyond and are well-informed by the current state of digital development. You're a kickass writer with no problems writing in English.
Together with us you'll be part of crafting a strategy for how we can increase the lifespan and viewer base for all the talks that are recorded at The Conference. This means both ensuring that the existing video archive is up-to-date as well as spreading the talks to a wider audience. There will be lots of opportunities to experiment!
Where: Malmö
Language: Engelska + svenska
Start: Flexible, Fall 2016
Interested? Send us an email about yourself, what you've done, what you dream of and what excites you to our head of communication Cecilia Frankel.