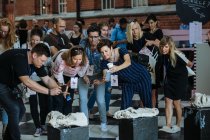 Come join The Conference
10 november, 2016 - 15:17
- Great responsibility attached. Lots of opportunities to set your creativity free.
The Conference has been organized six times and is on its way towards new endeavors with a new format. Now, we're looking to hire a format-art-and-culture person who'll be in charge of developing our formats and concepts, on as well as off stage. Currently, we're running down the "more Arts! & Culture!" road as we want to continue crossing more industries and interests to explore the complexities of our world.
Potentially you've been working in the fields of theater, music or arts. Or maybe you're a process leader with experience in leading a project from nothing to a world class something. Or… just believe that you have the energy and capability to be a part of bringing The Conference to new levels and fields.
We think you have
- energy to lead and represent The Conference
- experience in creating contexts and formats for great content
- the will to take on a big responsibility
- a curiosity and understanding of our time and what to come
- an interest in the arts and an eagerness to make it a bigger part of the business world
Where: Malmö, Sweden
When: Asap
What: Developing the format of and leading The Conference
Working language: English will do
If this sounds like fun to you, get in touch with Cecilia. Give a short description of yourself, what you're good at and why you're interested in joining The Conference. The sooner the better but no later than November 30. (If you see this after November 30, don't hesitate to get in touch, we're always looking for fabuloso people)