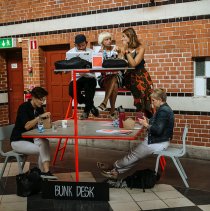 Be part of The Conference 2017
15 maj, 2017 - 10:35
The Conference by Media Evolution is an international conference exploring complexity and trends in the digital world. We adopt a multidisciplinary perspective on digital development and focus on the intersection between human behavior, new technology and how to make it happen.
We invite speakers from all over the world from a wide range of disciplines, really, they can be anything from brain scientists, robot experts, sociologists to designers, entrepreneurs or artists. This year we're moving from Slagthuset to Malmö Opera which means nearly 1500 people will participate in the two-day event and another 3000 participates in workshops, master classes and festivities during the conference week.
We record every single talk from the event and make it available for everyone to watch in our video archive. Like TED talks. Now we're looking for kickass writers who wants to join us in documenting The Conference. You'll be part of an editorial team with three other cool volunteers who'll write summaries of the talks during the event. All talks are held in English.
Plus, we frequently update our social medias during the event so we need a volunteer who's fast and skilled at editing images in real time. Also, a great listener to manage our Q&A on Twitter during the talks.
If you're interested in digital development, it's a great place to be. In the audience there are representatives from IKEA, SVT, World Bank, Google, Facebook etc. A great bunch of people which means great opportunities for networking.
You will be working full time during Sep. 4-5. (The editorial team might need some extra hours to polish the material September 6.)
Interested? Get in touch with our Head of communications, Max Lindeberg, max [at] mediaevolution [dot] se