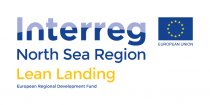 Lean Landing -> The Fast Track to New Markets
Lean Landing is designed to get small businesses quickly into new European markets. If you
want to test whether your products or services can be sold abroad, or if you're looking for
new European partnerships, this programme is for you.
What you get
The Lean Landing network consists of 26 partners, accelerators and incubators from across
the North Sea Region, i.e. Denmark, Sweden, Norway, Germany, Holland and UK. Together,
we have boots on the ground in all six countries, enabling us get you quickly in touch with
new customers and partners. Critically, the Lean Landing network gives you hands-on
knowledge and local insight into anything from business laws to cultural etiquette in markets
far from home. And when joining the Lean Landing programme, you will be able to use the
office facilities at incubators and accelators across the North Sea Region.
What we do
Favouring a hands-on approach, we arrange partner and customer meetings for you in your
country of choice, so you can get fast feedback from potential customers or partners and
perform a real-time test of the potential of your products and services in a new European
market. That way, you avoid traditional market analysis and get quick, solid feedback to act
on via practical encounters.
What it costs
It's free to join, and we'll even refund 50% of your travel costs. If you're interested in joining
the Lean Landing programme, the first step is a screening interview, where we assess your
company's potential and motivation to participate in the project.
To apply for an interview, please contact your local partner via http://www.northsearegion.eu/lean-landing/
Lean lading is co-financed by Interreg North Sea Region