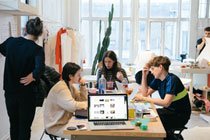 Minc/Talks w Emily Segal & Gregory Fong (K-Hole)
24 mars, 2014 -

17:00

-

19:00
Welcome to Minc/Talks for a seminar with two awesome guests, coming all the way from NYC!
Speakers: Emily Segal & Gregory Fong (K-Hole)
Talk: Youth Mode: A Report on Freedom - Factors at play in generational branding. From an age of individuality to an age of community
About the Talk: YOUTH MODE explores the problems of Mass Indie culture — where everyone is so special that no one is special — and the potential freedom of Normcore, a way of being that prioritizes self-identification over self-differentiation. Normcore capitalizes on the possibility of misinterpretation as an opportunity for connection, not as a threat to authenticity.
Bio: K-HOLE is a trend forecasting group founded in 2010 by a group of New York-based artists, designers, brand strategists and writers.
K-HOLE addresses how brand and consumer experiences are constructed, focusing on the most advanced applications of corporate and consumer strategy.
Greg Fong (b. 1987) is an artist and director. Emily Segal (b. 1988) is a writer and brand strategist.
When: Monday, March 24th, from 17:00 to 18:00
*Drinks & Snacks will be served after the talk from 18:00 to 19:00.
Where: Minc Malmö - Anckargripsgatan 3 211 19 Malmö
Sign up here!