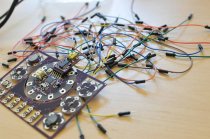 Wearable Tech Hackathon
10 maj, 2014 - 10:00
-
11 maj, 2014 - 14:00
Welcome to the 1st Wearable Tech Hackathon in Malmö, Sweden!!!
An initiative by Minc, in Malmö, the first Wearable Tech Hackathon is a place for hackers: use yours skills and together, come up with a prototype of what could be the next coolest Wearable Technology product!
We invite you to test your ideas within Wearable Technology: maybe it'll be something related to fitness? Health? Fashion? We're excited to see what you can come up with during these 24 hours!
FORMAT
The Hackathon will happen over 24 hours. Participants should arrive on a Saturday at 13:30 when the doors open, Hackathon starts at 14:00. If you're taking any courses, please, arrive according to the course schedule in the morning. Electrokit will provide teams with a Starterkit** and will have a mini-shop open during the Hackathon so you can buy any extra materials you might need, so bring your credit card. You'll be assembled in teams of max. 5 persons, skilled matched. Snacks, drinks and food will be offered during the Hackathon. The hackathon goes on until 14:00 the next day, Sunday, when winners will be announced and awarded.
PARTICIPANTS
The Hackathon is open to the public, all can participate. Minimum skills are required, such as knowledge of hardware (i.e arduino), understanding of prototyping, etc. The focus will be on IT students, tech people in the region and interested entrepreneurs with such knowledge and interest.
WHEN
May 10th and 11th
LOCATION
STPLN - Fabriken
Stapelbädsgatan 3,
211 19 Malmö
GET TICKETS:
http://www.eventbrite.com/e/wearable-tech-hackathon-tickets-11183107977
READ MORE AND HAVE A LOOK AT THE PROGRAM HERE:
https://www.facebook.com/events/399259016883130/