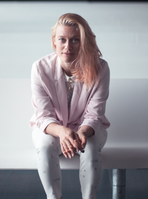 Minc/Talks: Lucy McRae - The Body Architect that tip toes on the edge between imagination and innovation
29 september, 2014 -

17:00

-

19:00
Studio Malmö, together with Minc, invites you for a series of Minc/Talks on the topic:
MODERN LIFESTYLE: HOW DOES IT AFFECT CULTURE AND INNOVATION?
For the very first talk, we have the TED Speaker Lucy McRae: Lucy's talk will take you on a journey of her thought provoking, unsettling, and experimental work. Prepare to be inspired!
TALK: Lucy McRae - The Body Architect that tip toes on the edge between imagination and innovation
BIO: Lucy McRae is a Body Architect exploring the relationship between the body, technology and the grey areas of synthetic and organic materials. She invents playful, imaginary worlds underpinned by the tools of science fiction and technology, to create portals of possibility that provoke the way people embody the future.
Trained in classical ballet and interior design, Lucy staked her claim as the world's premier Body Architect during her formative years at Philips Design. Working in the far future design research lab she developed stretchable electronics, an electronic tattoo and a range of emotional sensing dresses awarded Time's Best Fashion Invention in 2007.
On a search for beauty in the biological, Lucy invented a Swallowable Parfum a scented capsule releasing a genetically unique fragrance through the skins surface, and a colour changing liquid textile for Swedish pop star ROBYN. Set on challenging the limits of the body, Lucy was invited to join the TED Fellowship programme in 2012 and spoke at TED Long Beach on How Technology will Transform the Body, which has had 1,200,000 views and counting.
Perhaps partly because of the intriguing ambiguity of her job description or the unconventional duality of her artistic study of technology Lucy is listed by Fast Company as one of fifty people shaping the future.
WHEN: September 29th, Monday, 17:00 to 19:00
WHERE: Minc, Anckargripsgatan 3, 211 19, Malmö / Sweden
Attending this event is free of charge but seats are limited. Tickets are individual and will grant you a drink during the after work, between 18:00 and 19:00 after Lucy's talk. There's a NO-SHOW fee of 500 sek. If you can't make it for any particular reason, please, make sure to CANCEL your ticket here on eventbrite. You have to do this yourself.