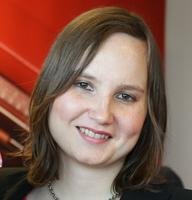 Minc/Talks: Nell Watson - The Jobless Society: Defining yourself in a world without fixed roles
24 november, 2014 -

17:00

-

19:00
Studio Malmö, together with Minc, invites you for a series of Minc/Talks on the topic:
MODERN LIFESTYLE: HOW DOES IT AFFECT CULTURE AND INNOVATION?
For the second talk, we have the Founder & CEO of Poikos Nell Watson: she is an engineer, entrepreneur, and futurist thinker.
Talk:
Nell Watson: The Jobless Society: Defining yourself in a world without fixed roles
Our working lives are in the middle of the biggest shift since the industrial revolution.
Three mega trends are converging that will reshape our society by the end of this decade:
- Machine learning
- Holacracy (management by peers)
- The Shadow economy
A report from the University of Oxford calculates that advances in Machine Learning puts almost half of all jobs at risk of automation within a generation.
The value of human labor is dropping, whilst our world accelerates ever faster. Companies like Zappos and VALVe are leading a new wave - reconfiguring themselves into 'holacracies', turning one big organisation into hundreds of small, agile teams without fixed titles.
As TED Fellow Robert Neuwirth remarks, roughly 50% of the Earth's population hustles for a living instead of within formal employment (rising to 2/3 by 2020). Technologies such as cryptocurrencies are enabling shadow economies in a major way.
How can we better adapt to such massive changes, and how will this affect our modern lifestyles?
Bio:
She is Founder & CEO of Poikos, the smartphone 3D body measurement company.
Nell's patented technology 'dematerialises' the 3D body scanner, by providing accurate 3D scans of the body with only 2D camera hardware, such as that found within smartphones, or laptops. This may then be applied to a range of markets, such as fashion, mass customisation, and health.
In 2013 Nell was awarded a full scholarship to join 80 other students for Singularity University's Graduate Studies Programme. This 10 week intellectual and entrepreneurial marathon covers the the latest emerging technologies, and teaches the power of exponential thinking. Students are called upon to find solutions for humanity's greatest challenges, and then scale them over 10 years so that they may impact one billion people.
When: November 24th, Monday, 17:00 to 19:00
Where: Minc, Anckargripsgatan 3, 211 19, Malmö / Sweden
Sign up here!