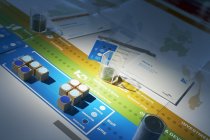 Try Celemi Decision Base™ in Malmö
14 april, 2015 -

08:30

-

17:00
Be the CEO for a day: Imagine you're the leader of a large corporation. The strategy is up to you. Your decisions have direct consequences on the bottom-line. In Celemi Decision Base™ you get to develop your ability to run, improve, and expand a company in fierce competition. Celemi Decision Base™ is a "mini-MBA" for leaders and leaders to be. Welcome to try it out!
During the simulation you will learn how to better understand and utilize financial statements as well as ratios as planning tools. See how these will help boost productivity – and profitability.
Join us in an Open Seminar with Celemi Decision Base™. A great amount of our clients use Celemi Decision Base™, as well as six out of ten world-class top 10 business schools in Europe. Get a chance to acquire business skills – fast – and this day – almost for free. Enjoy the interactivity, the discussions, and take the chance to learn from your peers.
You and your team will learn how to utilize financial statements over a fictitious ten-year-period. Working together, you'll learn more about what financial relationships between department looks like. Understanding this makes it much easier for you and your employees to pull in the same direction.
Welcome to an Open Session with Decision Base™ – Pulling in the Same Direction – April 14
Info
The place: Celemi HQ, Nordenskiöldsgatan 8, Malmö, Sweden
The time: April 14, 8.30 am – 5 pm
Language: English
Cost: 50 €/500 SEK
Invitation & more information: Decision Base™ Open Seminar April 14, 2015
Register: To register, please send us an e-mail to ask [at] celemi [dot] com with your name, company name and the date you would like to attend, before April 10.
Do you want to become certified to facilitate Celemi Decision Base™? Please click here.