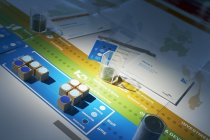 Try Celemi Tango™ and practice your leadership skills!
16 april, 2015 -

08:30

-

17:00
Welcome to an open seminar with Celemi Tango™! Come and play; get challenged in attracting and retaining the right people in a fast moving industry. Learn to ensure that your people align with your growth strategy and ability to acquire and retain profitable customers. In the Celemi Tango™ business simulation, you, as a participant, will develop the skills required to fully leverage your people as a source of competitive advantage, and execute a successful business strategy.
For whom: Suitable for senior and middle managers, strategic planning teams, experienced project managers, consultants in knowledge companies, HR personnel and any manager or employee involved in strategic decisions and talent management.
Info
The place: Celemi HQ, Nordenskiöldsgatan 8, Malmö, Sweden
The time: April 16, 8.30 am – 5 pm
Language: English
Cost: 50 €/500 SE
Invitation & more information: Tango™ Open Seminar April 16, 2015
Register: To register, please send us an e-mail to ask [at] celemi [dot] com with your name, company name and the date you would like to attend, before April 10.
Do you want to become certified to facilitate Celemi Tango™?
Please click here.