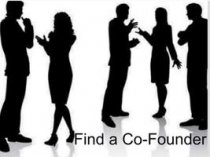 Find your co-founder hosted by Malmö Startups
13 maj, 2015 -

18:00

-

20:00
Helping You Find A good Match!
Finding the right Co-Founder for your new and exciting project can be tricky at times. After all, you want to find a person who is not only talented in the areas where you might lack knowledge, but someone who you could spend countless of hours with- and enjoy the sound of their voice on Skype. It's a very big decision indeed, so where to start?
The Find Your Co-Founder event we held in March @Djakne was a success and it's now time for another one, but this time we've moved to Minc!
If you have any questions, please don't hesitate to send an email to gabriella [at] malmostartups [dot] com