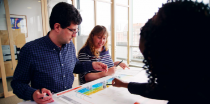 Business finance for everyone
14 april, 2016 -

09:00

-

17:00
Try a serious business game, to learn how long term business value is created. See how you - as an employee - fit into the big picture. Discover how money flows in and out. Realize what you can do to make a difference. A Celemi Apples & Oranges™ simulation is a great hands-on experience demystifiying finance. You get to play with company assets and cash flow, understand the meaning financial reports, and performance indicators – while having fun. Join the hundreds of thousands of participants who have participated in a fun, fast-paced Apples & Oranges seminar. Celemi Apples & Oranges Manufacturing Sales 5.2 makes business finance come to life!
The place:
 Celemi HQ, Nordenskiöldsgatan 8, 5th Floor, Elevator B, Malmö, Sweden.
The time:
 April 14th, 9 am – 5 pm (option to leave at 12:30am before lunch)
Language:
 English
Price:
 € 50/500 SEK. Lunch and coffee breaks are included.
Sign up to:
besarta [dot] shabanaj [at] celemi [dot] com – no later than April 8th, please.
Welcome!