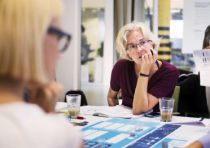 Celemi Decision Base™ Business Simulation
19 maj, 2016 -

08:45

-

17:00
Get everyone to pull in the same direction - try Celemi Decision Base™ Business Simulation
You and your colleagues are welcome to an open session of Celemi Decision Base. Simulating up to ten years of operations, you will make several strategic decisions. Invest now…or later? Pursue all markets… or just a few? Take the lead… or be an early follower? Build efficient assembly lines… or flexible flow shops? Borrow money… or earn it first? Stick to the basics… or pursue the cutting edge? Do you have what it takes to make the necessary strategic decisions?
Did you know that 99.1 % of Celemi clients recommend a Celemi business simulation?
(Source: Celemi Participant Surveys)
WHAT IF…
…all employees within a company planned and acted as if they owned the company?
…employees could increase their competence without spending a lot of time in training?
…teams could gain cross functional insight and a common vocabulary for better performance?
THEN…
You could start tapping business potentials you never thought possible! Take this opportunity to find out HOW in a unique hands-on workshop!
For anyone interested in actions to improve bottom line results!
This business simulation is designed for people with strategic planning or managerial roles in the areas of finance, product development, production, sales or marketing. People from different departments learn to use the same terminology. By learning how measures taken in one part of the company can have an impact on other aspects of its operations and the company as a whole; people will become better decision makers.
More details on the content on http://celemi.com/service/celemi-decision-base/
For more information and registration, please send an email to besarta [dot] shabanaj [at] celemi [dot] se. Please register no later than May 10th.
WELCOME!
The place: 
Celemi HQ, Nordenskiöldsgatan 8, Malmö, Sweden
The time:
 May 19th, 2016. 8.45 am – 5 pm (Workshop starts at 9 am)
Language:
 English
Price:
 € 50/500 SEK. Lunch and coffee breaks are included.