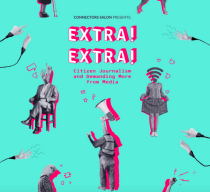 Connectors Salons
30 mars, 2016 -

18:00

-

20:00
"Don't hate the media, become the media."
American activist Jello Biafra

Can we trust mainstream new sources? Today it's more important than ever to understand citizen journalism and how we can shape local news. This Salon will investigate developments in how we absorb and share our news; technologies that enable citizen journalism; its role and what we can do to contribute to better press.
A panel of speakers from around Europe will help lead a conversation about citizen journalism:
* Lorna Stephenson (UK), who works at The Bristol Cable - a media cooperative created and owned by 800 people in the city.
* Måns Adler (Sweden) founded Bambuser - real-time mobile video sharing technology that's been important for citizen journalists around the world.
* Mike Small (Scotland) is the editor of Bella Caledonia - an online magazine exploring ideas of independence, self determination and autonomy.
Connectors Salons//
Connectors Salons are monthly inspirational talks/networking events held in a relaxed setting featuring some of the most aspiring folk in town. We meet at STPLN, an open house for creatives, doers and developers located in the Western Harbour, near the centre of the city. The event is always free and open to the public.
We want to eliminate food waste at our events, so please take a second to register on the website!
When: 
WEDNESDAY, MARCH 30, 2016 at 6:00PM 8:00PM
Where: 
STPLN, 3 STAPELBÄDDSGATAN MALMÖ, SKÅNE LÄN, 211 19 SWEDEN