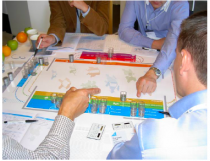 Celemi Apples & Oranges: Business Finance for Everyone
27 oktober, 2016 -

09:00

-

17:00
Learn how business value is created and how you as an employee fit into the big picture. Discover how money flows in and out of a company. You will realize what you do to make a difference in your organization. A Celemi Apples & Oranges™ simulation is a great hands-on experience demystifying business finance. In just a few hours, you learn how to understand financial reports and the surrounding business lingo – while having fun. Join the hundreds of thousands of participants that have gone through a fun, fast-paced Apples & Oranges seminar, one of our bestsellers.
Apples & Oranges can be used for a range of applications, including:
- Developing general business literacy
- Monitor cash flow
- Creating a common frame of reference of how the business works
- Kick starting a major change initiative
- Engaging people in a continuous improvements program
- Preparing the organization for a new financial report system
- Creating a better understanding of how the participants' own area of responsibility contributes to the whole
- Analyze financial ratios and key performance indicators and make priorities accordingly
- Learning about what makes their customers' business tick
Celemi Apples & Oranges makes business finance come to life!
During this one day seminar you will get a unique experience of how a business simulation program makes concepts crystal clear - you will gain a business understanding and "helicopter view" of business finance. You will simulate running a manufacturing company while learning concepts of sales as well. The simulation is suitable for employees at all levels.
The place: 
Celemi HQ, Nordenskiöldsgatan 8, Malmö, Sweden.
The time: 
October 27, 9 am – 5 pm
Language: 
English
Price: 
€ 50/500 SEK. Lunch and coffee breaks are included. .
More information and registration:

For more information and registration, please send an email to besarta [dot] shabanaj [at] celemi [dot] com.
Please register no later than October 14th.
WELCOME!