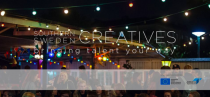 Southern Sweden Creatives Meetup - Blekinge
The Southern Sweden Creatives project (www.southernswedencreatives.com) supports small and medium- sized companies from the cultural and creative industries to grow internationally through professional business development, international exposure, and national coordination. The project focuses on southern Swedish companies that work primarily with film and tv, digital games, digital media and design.
The Southern Sweden Creatives initiative is now planning our presence at one of the world's largest game developer conference - GDC in San Francisco (http://www.gdconf.com/) and also the biggest interactive festival SXSW (https://www.sxsw.com/) and we would like to invite you to join us as, we want to help you reach a wider audience and new markets.
Are you already planning to go to next year or are you just curious and want to know more before you decide? Then this is the meetup for you!
Welcome to this meetup where we invite you to tell us your needs and listen to what we have to offer within the Southern Sweden Creatives project!
See you at Netport Science Park!
Please feel free to invite your friends!