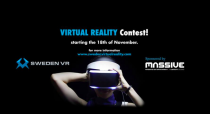 Sweden virtual reality contest sponsored by Massive
Join us! Take part of an exciting information meeting about Sweden VR international virtual reality contest sponsored by Massive!
Take part of the great competition. Great prizes, opportunities and challenges!
WELCOME!
"Sweden Virtual Reality" is sponsored by Massive Entertainment. Sweden Virtual Reality is developing a virtual knowledge- and recruitment platform for VR developers, while also arranging an international VR contest.
"VR" stands for "virtual reality". VR glasses provide you with the opportunity to experience the so-called "virtual world". As it fools the eye, VR also tricks the brain into interpreting the image as though one is there in the space being shown.
Sweden Virtual Reality began advertising an international VR contest on the 18th of November at www.swedenvirtualreality.com, with the intention of finding VR talents from all over the world. In addition to technology prizes, discovered talents will gain access to the virtual knowledge and recruitment platform, where creative development projects and recruitment possibilities are offered in cooperation with the gaming industry. Winners will be given opportunity to meet Sweden VR and Massive Entertainment recruitment team.
The theme for the VR contest is "sustainability", for the purposes of encouraging developers to create content, environments, and experiences that facilitate sustainable development. The jury panel for the contest consists of representative from Massive Entertainment, VR Laboratoriet (the VR laboratory) at Lund University, Världsnaturfonden WWF Sweden, Naturskyddsföreningen (Society for the Conservation of Nature), and Sweden VR.
The sponsors are Massive Entertainment, SOPACT, New Seed IT Solutions AB, Interreg and Cross Motion.
This is an information event regarding the international Virtual Reality contest. More information about the contest can also be found at: www.swedenvirtualreality.com
When: 8 december at 16.00
Where: Media Evolution City
Facebookevent to be found here https://www.facebook.com/events/1818608868351396/