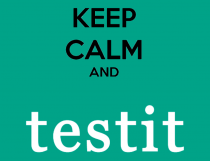 Testit 2017
12 september, 2017 -

07:30

-

17:00
We are proud to announce that the acclaimed test conference Testit will be held for the fourth year in a row. This year's themes are Test automation and Creative testing.
You can look forward to a tutorial about Robotic Process Automation by RPA evangelist Katriina Valli (FI), Claus Petersen's (DK) inspiring talk about Peer learning and gamification at Unity and a keynote by none other than leadership expert and author of Management 3.0 Jurgen Appelo (NL)!
We have much more lined up this year, featuring presentations from speakers from a wide range of companies like Axis, Qlik, King and Fingerprint. Take the opportunity to join us and develop your automation knowledge and find out how you can make your everyday testing more fun and creative.
Testit is a full day test conference in Malmö. Breakfast, lunch and a smaller snack in the afternoon will be provided onsite. No prior knowledge is required to attend the conference. Since the conference contains two tracks, focused on Creative testing and Automation you are sure to find the right presentation for you throughout the day."