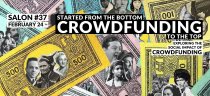 Connectors Salon #37: Started From the Bottom, Crowdfunding to the Top
24 februari, 2016 -

18:00

-

20:00
What does the rise of crowdfunding say about our society? This Salon explores crowdfunding as a social phenomenon - it's place in the sharing economy, it's potential for catalysing social change and disrupting capitalistic structures, it's risks and what it says about how our society is changing.
Guiding us on our journey into the thick of the crowd we have a panel including Michal Gromek coming down from Stockholm. He's a crowdfunding expert working in the business and researching ways to challenge traditional institutional structures at the Stockholm School of Economics.
Spread the ♥ and invite your friends!
Connectors Salons//
Connectors Salons are monthly inspirational talks/networking events held in a relaxed setting featuring some of the most aspiring folk in town. We meet at STPLN, an open house for creatives, doers and developers located in the Western Harbour, near the center of the city. The event is always free and open to the public.
We want to eliminate foodwaste at our events, so please take a second to register on the Eventbrite event!
When
Wednesday, February 24, 2016 from 6:00 PM to 8:00 PM (CET)
Address//
STPLN, Stapelbäddsgatan 3, 211 19 Malmö