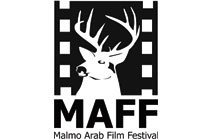 Malmö Arab Film Festival
Malmo Arab Film Festival is a mere cultural event that has no economic benefit purposes. It is held every September in Malmo - Sweden. The festival's main objective is to promote understanding and cultural exchange between the Arabic speaking and other ethnic groups who share living in Sweden, especially in Malmo and Skane. With a cross-cultural understanding it has become a necessity for a positive and successful common life between different communities.
We are committed to the festival program which will include other elements and themes that create spaces for cultural dialogue between Arab and Western world. Malmo Arab Film Festival sees that there are great opportunities for the festival to provide a platform for meetings between people, Arabic speaking as well as the Swedish speaking, both within and between groups. The festival's purpose is extended to minimize bias and contribute to a positive integration.
The festival is dependent on funding from various governmental and nongovernmental grants and donations, both in and outside Sweden.
We are really good at:
Finding good Arabic films, we have good relationships with film production and distribution in the Arab world (24 countries).
Other member companies can help us with:
Possibly there is someone who could step in and finance, sponsoring us or cooperating. We are happy to cooperate with marketing, photographers, print shop, home page etc. We are open to all suggestions.
http://www.youtube.com/user/MalmoArabFilmFestiva