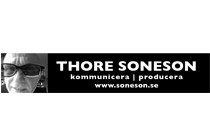 Thore Soneson production
"Thore Soneson production - a one-man company where I work with communication – manuscripts, dramaturgy and artistic filmproduction, as a writer and editor. I have experience of working in public office aswell as non-commercial, I lecture on communication with moving images and work with project management of arts and media productions.
I am really good at:
Script development and dramaturgy. Moving images are all about communication. Creating and developing stories. You get "blind" as a director / producer, a new "look" resets focus.
Film production. Artistic and communicative, music video, artist portraits, webb video.
Workshop and lectures. On dramaturgy, innovative ideas, the narrative process in social media and documentary projects in digital storytelling and interaction.
Other members can help me with
I am interested in working with production companies on the creative forefront, on the crossroads between academia and media production."