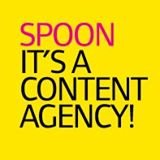 Spoon Publishing
Spoon has a very simple core philosophy – we want our clients' target audience to like everything we do. That might sound a bit trite, but we think it's an approach that's too often absent in the world of communication.
Spoon works with content marketing. We create media experiences tailored for our clients' target audience through a variety of channels including newspapers, magazines, newsletters, websites, and TV. We provide brands with meaning and substance, and ensure that your content reaches out and makes an impact.
Spoon is Sweden's most award-winning content agency and we work with companies such as Volvo, Hemköp, SATS, Axel Johnson, Sandvik, HSB, SEB, If, Nordlock, Alfa Laval, Höganäs, Majblomman and many more.
Offices: Stockholm, Göteborg, Malmö, Oslo and Helsingfors
We believe that tomorrow's large media players will be brands that are able to create engaging media products based on their expertise.