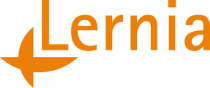 Lernia
Lernia is one of Sweden's leading knowledge-based companies, offering a wide range of workforce solutions and education services.
Lernia develops and matches the skills of individuals to the needs and requirements of businesses across Sweden. Everything we do starts with a thorough understanding of the job market and the skills that are in demand. In that way, more people can obtain a relevant education and a job.
We divide our services into three main areas of operation. This allows us to better serve our customers' need for expertise in specific areas. At the same time, our collective offering allows us to provide a holistic view of more complex needs of both businesses and individuals.